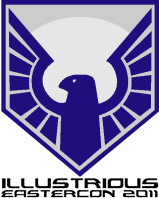 Illustrious 2011 was held at the Birmingham NEC Hilton Metropole.
Illustrious, the 62nd Eastercon: 22nd - 25th April 2011 The Hilton Metropole, NEC, Birmingham, UK
Guests of Honour:
Edit
David Weber
Peter F. Hamilton
David A. Hardy
Roz Kaveney
Vince Docherty
Committee
Edit
Nik Whitehead - Chair
Fran & John Dowd - Finance & Membership team
John Harold - Services
Richard Cranshaw - Hotel Liaison
Liam Proven - Programme
Site of the 1987 Eastercon, Beccon '87, and the 2008 and 2008 DiscWorld Conventions [[1]]
The convention can be contacted at enquiries@illustrious.org.uk or you can join the discussion about the convention through any of the following media:
   * Livejournal: the Illustrious member community
   * Facebook: the Illustrious 2011 event
   * Their webpage: Illustrious
   * Twitter eastercon

Ad blocker interference detected!
Wikia is a free-to-use site that makes money from advertising. We have a modified experience for viewers using ad blockers

Wikia is not accessible if you've made further modifications. Remove the custom ad blocker rule(s) and the page will load as expected.